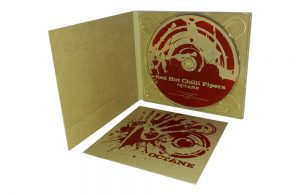 A wide range of CD packaging can seem confusing – so much choice! We thought it would be useful to briefly explain the different types of packaging.
Please have a quick look at the information below or visit CD Packaging & Quote to view the wide range of CD packaging options.
Jewel Case – A jewel case is, for many, considered to be a standard CD package. It has a hard clear plastic body with a plastic tray card to hold the CD. Jewel cases can hold a single insert printed both sides or booklets that can range from anything from 4 to 32 pages. The inlay, which sits in the rear of the case (underneath the plastic tray) can be printed on one side, or both sides if you would like a design / image to show through a clear tray. The outer side of the inlay (which is the back of the jewel case) usually includes details of the track titles and timings, the barcode and copyright details.
Digipak – A digipak is mainly a card package, although it does incorporate a plastic CD tray. The most common digipak has 4 panels with the CD tray attached to the inside right panel. Most of our clients prefer a clear tray as this then allows for the use of an image / design underneath the tray. Booklets (usually from 4 – 32 pages, although larger booklets are possible) can be included and can sit either in a sleeve or in a slot in the inside left page. Standard digipaks can be supplied with 4, 6 or 8 panels, making it possible to hold up 4 CDs plus booklets.
Digfiles and digisleeves are environmentally-friendly plastic-free packaging options.
Digifiles – The most common digifile we are asked to supply has 4 panels with a slit on the inside right panel for the CD to slot into leaving half of the disc visible. If you have a lot of information to include and require a separate booklet, the inside left page can be made to include a slit to house a booklet (4 -32 pages or more if needed), or a second disc slit for double-disc packages. Most digifiles have 4, 6 or 8 panels, can be supplied with or without booklets, and can hold anything from 1 to 4 discs.
Digisleeves – A digisleeve is a bit like a scaled-down version of a double vinyl sleeve where the CD slots into a sleeve, usually from the outer edge* of the right hand side – we consider this to be our standard digisleeve. A 4 panel digisleeve can include a second sleeve on the left hand panel where a booklet (usually 4 – 32 pages), or a second disc, can slot in from the outer edge* on the left hand side. Like digipaks and digifiles, digisleeves can be produced as a 4, 6 or 8 panel version, with or without booklets, and can hold up to 4 discs.
*there is also a version of the digisleeve where the sleeve openings are at either side of the inner spine rather than at the outer edges.
The digipak, digifile and digisleeve are all very popular packaging options these days. Choosing the right packaging for your project will depend on how
much information and images you would like to include. With the digipak and digifile, one of the panels needs to be used for either the plastic tray (digipak) or a slit (digifile) to hold a CD. We find that the digisleeve is increasingly popular because it allows for information /images to be printed on all 4, 6 or 8 panels.
A very basic, but extremely popular, packaging option is the Card Wallet, a single wallet printed front and back with an opening either at the side or the top where a disc can slip in and out. These are often used for EPs, demos and for CDs distributed along with newspapers or magazines.
Have a look at our CD packaging page to view a small sample of the available options. Please give us a call (01350 727158) to discuss anything, we're always happy to help.