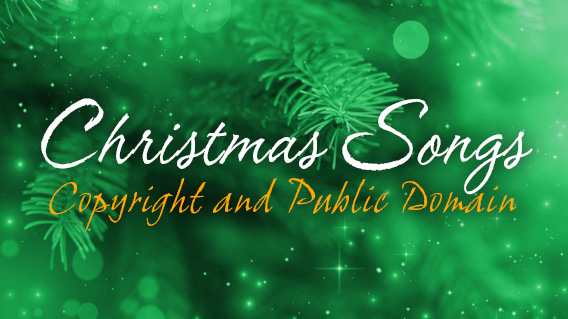 Christmas Songs – Copyright & Public Domain
When it comes to Christmas Songs, (not just Christmas songs but any songs) it's important to check whether the song is copyrighted or whether it's in the public domain – not all Christmas songs and carols are in the public domain and therefore licenses and permissions will be needed.
Just because a Christmas song/carol/hymn was written in 1934 does not necessarily mean it is in the public domain.
A Musical Work or Sound Recording is in the Public Domain when the copyright has expired. From the date that the copyright expires it is not controlled or owned by anyone. In the UK, the songwriter's copyright lasts for 70 years after their death (musical works) and the recording artist's copyright lasts for 50 years after their death. (prsformusic.com)
Songs in the public domain can be used without permission or credit to the original author however, this does not apply to copyrighted arrangements of songs in the public domain – songs that are copyrighted will require permission/licensing.
Christmas songs which are now in the public domain include:
Jingle Bells' (James Pierpoint, 1857)
Good King Wenceslas (John M Neale, Thomas Helmore, 1853)
Holy & The Ivy (Henry R Brawley, John Stainer, 1871).
Hark! The Herald Angels Sing (G Whitefield, William H Cummings, 1840)
Christmas songs which are not in the public domain include:
Here Comes Santa Claus (Gene Autry, Oakley Halderman 1947)
White Christmas (Irving Berlin, 1942) – According to Wikipedia "White Christmas" is one of the most-recorded Christmas songs; there have been more than 500 recorded versions of the song, in several different languages.
Santa Claus Is Coming to Town (John F Coots, Haven Gillespie 1934). Recorded by many artists including Perry Como (in 1951), Michael Jackson (in 1970), Rod Stewart (2012) and Kylie Minogue (2015). In 2015, the Court of Appeals ruled that rights to "Santa Claus is Coming to Town," the all-time most performed holiday song, will revert to the heirs of J. Fred Coots. Coots, along with fellow songwriter Haven Gillespie, wrote the song in 1934 and made a deal with Leo Feist, who ran a publishing company that was eventually acquired by EMI.
For more information and to check copyright/public domain information please visit PRS for Music and www.pdinfo.com