Artist & Label Services. We offer a range of artist and label support services to help guide artists and labels through the many tasks required to successfully release music as a single, an EP or a full album. If you're looking to do your own music promotion then we can offer support including design for posters, flyers, pop up banners etc.. If you're only looking to do digital promotion then check out our social media support package which includes a range of graphics suitable for use across social media platforms. With years of experience in the music business we know what is needed to get an album released and we're happy to help you to ensure that everything is covered in good time for your launch event and release date.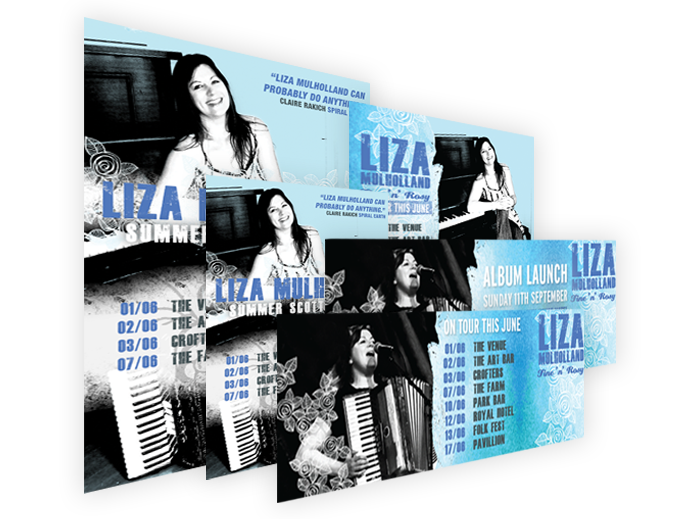 GET THE WORD OUT. BE SEEN. BE HEARD.
Tour & Event Bundle: Digital & Printed Media
If you're looking to promote your upcoming event, there is no better way than having a consistent theme across all of your advertising. With our Tour & Event Bundle, we supply graphics for all of your social media platforms, posters and flyers, and PDF copies of the posters that can be added as a downloadable resource on your website. All of this is offered in tandem with a top-class design service.
Our standard bundle starts with a base number of products, but this can be adapted to suit your needs.
Standard bundle:
50 A3 posters

100 A4 posters

1000 double-sided A6 flyers

Facebook cover photo and event banner

Twitter banner

Social media tour/event poster

PDF-copies of the poster and flyer designs

Design service
Social Media Support Package
Create a recognisable and consistent theme across all of your social media platforms. Using either artwork from your album packaging or a fresh design, we can create banners, profile pictures and graphics for use across all major social media platforms. Need the information updated in the future? No problem! Contact us again, as we're always happy to help.
What's Available?
Facebook:

Profile Picture, Cover Photo, Event Banner, Post Graphic

Twitter:

Profile Picture, Profile Banner, Post Graphic

Youtube:

Profile Picture, Channel Banner, Video Thumbnails
Don't see what you're looking for? Just ask! We are happy to provide graphics for any and all social media platforms.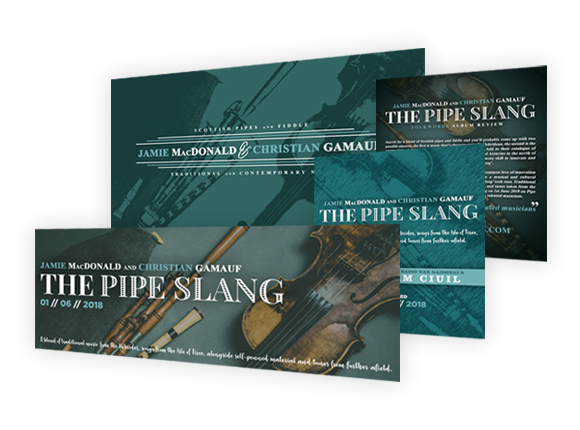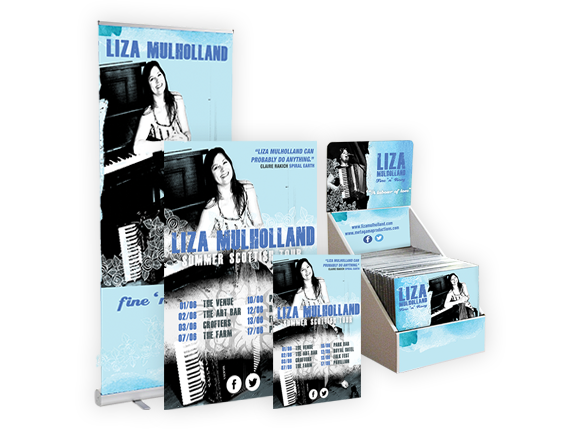 Tour & Event Support: Printed Media
Get the word out about your tour or event with a bundle of posters, flyers and other print products. We can create eye-catching designs that will be replicated across multiple print formats, providing you with plenty of posters and flyers to promote your event.
Want something more than posters and flyers? We can also offer pop-up banners and CD display units, again printed with a consistent theme.
What's Available?
Posters

(A0, A1, A2, A3, A4)

Flyers

(A5, A6, single-sided or double-sided)

Pop-Up Banners

(2000mm x 800mm, full colour)

CD Units

(Printed header and base, can hold up to 25 CDs depending on packaging)
DDP, Barcodes and ISRCs
DDP Master – DDP (Disc Description Protocol) is a digital format for audio masters and is now the industry standard. It is the only master format that the pressing plants that we work with will accept so, by extension, it is the only master format that we can accept. If your mastering engineer cannot provide you with a DDP file set, we can create one from a master disc for you.
Barcode Allocation – If you are intending to release your music commercially, you will require a barcode. Stores and online outlets will not be able to accept your music for sale if your release does not have a barcode. Birnam can provide a barcode number, a barcode graphic, and even place your barcode for you if required.
ISRC Allocation – ISRCs (International Standard Recording Code) are required if you intend to release your music digitally. One code is required for each track on your release.The codes need to be added to your master. Birnam can allocate the codes and, if necessary, add them to your DDP master.
Project Co-ordination
We manage and coordinate large and smaller scale projects for many of our clients. We regularly compile sampler albums for music trade shows, magazine covermounts/downloads and other promotional purposes so we're well used to working with multiple artists and labels to hit tight deadlines.
Copyright & IPR
MCPS Application – In order to release a body of music within the United Kingdom, or in order to have music products manufactured by a UK-based company, an MCPS license is required. This is non-negotiable and that fact cannot be overstated. If required, Birnam can complete an MCPS application on your behalf.
*Please note: This service is included free-of-charge for clients using our design service.
IPR – IPR stands for "Intellectual Property Rights". Before we can produce your discs, you must confirm that you own the Intellectual Property Rights to the material you would like us to copy. To do this, you complete and sign an "Intellectual Property Rights Declaration" and send it to us. It's a very straightforward form. We'll send you a link to the form and are very happy to guide you through completing it if required.
Download Cards
Download cards are popular as a promotional tool and are useful for artists releasing vinyl records – a download card can be included in the vinyl packaging. If you would be interested in these, please give us a call.
** Please note: GDPR Privacy laws came into force 25th May 2018 and the download service will no longer include the option to collect customers' email addresses.
CD Information Registration
When a CD is inserted into a computer, that computer's media player will often bring up the album title, artist name and track titles. Despite popular belief, this information is not encoded onto a CD itself and is instead drawn from an online database. We can submit the information on your behalf to the online database so that the correct information is always displayed.
*Please note: This service is included free-of-charge for clients using our promotional service.
Advert Placement
Looking to promote your new album, tour, gig or event? We work with a range of digital and hard copy magazines and can design and place your advert. We also offer a combined ads initiative, splitting the costs and making it more affordable to have a visible presence in main music magazines.
Short-Run Rush Jobs
Do you have a concert coming up in a week's time and desperately need copies of your new album to sell ahead of its release? Are you about to embark on an international tour but have run out of CDs? Birnam offers a short-run rush service that can be fulfilled in under a week. You can split your order and order enough rush CDs to get you through the interim whilst the main bulk of your order is processed.
Physical Distribution
If you would like to get your CDs into stores across Scotland, Birnam works with Scotland's main distributer Highlander Distribution. We can arrange for Highlander Distribution to stock and distribute your CDs across Scotland and further afield. This service is not available for all genres of music.
We offer a range of support and advice services. Please get in touch for more details.