Now in its 15th year, the MG Alba Scots Trad Music Awards, this year held in Paisley, once again presented an incredible selection of wonderful performances from a wide range of hugely talented artists. The event itself was held in the Paisley Lagoon Centre which, along with the very impressive lighting and sound, provided a spectacular, glitzy venue for the evening.
The event kicked off with a powerful performance by The Shee Big Band, on great form with beautiful harmonies in their opening song followed by a foot-stompin' instrumental set.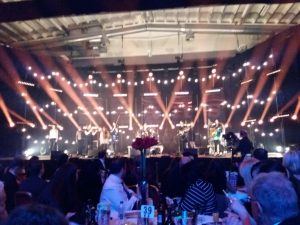 Lori Watson, with a stunning vocal performance, confirmed just why her imminent new album "Yarrow Valley Sessions" is so eagerly anticipated (it's in production now and will be available soon – honest!!).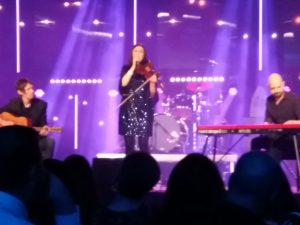 It was lovely to see the enthusiasm and talent shining from all the young folk of Fèis Phàislig who earned a highly enthusiastic ovation from the crowd in the hall.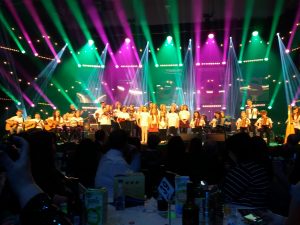 Ross Ainslie was the only solo act to take to the stage on the night, but his performance was every bit as powerful as the other acts on show  – and made all the more powerful by the skilful and dramatic stage lighting.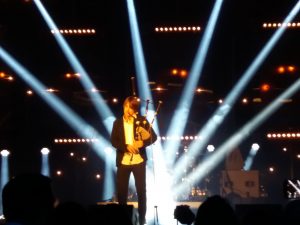 Considering the number of awards she has now won, Scots singer of the year Siobhan Miller must surely be in the market for a bigger mantelpiece these days. Her performance towards the end of the night showed just why she is so acclaimed, and her rendition of Andy M. Stewart's classic "Rambling Rover" certainly had the entire assembly find its voice.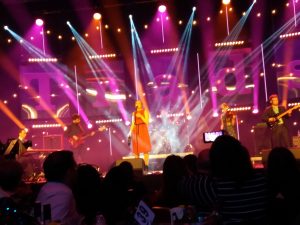 The evening finished with a set by Inverness quintet Elephant Sessions, rounding off what has been an outstanding year for the band by getting the audience up on their feet to bring a great end to a truly special night.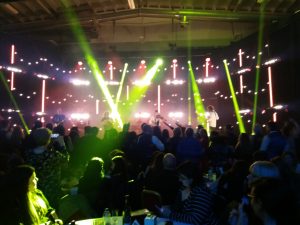 Thanks and congratulations to Simon Thoumire and the Hands Up for Trad team for once again putting together an incredible line up for the awards ceremony and well done to all of the nominees who made it to the final lists.
2017 Winners
Album of the year 'All We Have is Now' by Elephant Sessions
Community Project of the Year – Tiree Songbook
Composer of the Year – Adam Sutherland
Live Act of the Year – Skippinnish
Scots Singer of the Year – Siobhan Miller
Up and Coming Artist – Ho-ro
Music Tutor – Emma Tomlinson
Gaelic Singer of the Year – Robert Robertson
Folk Band of the Year – Talisk
Dance Band of the Year – Duncan Black Band
Scottish Pipe Band of the Year – Inverary & District Pipe Band
Club of the Year – Edinburgh Folk Club
Instrumentalist of the Year – Gary Innes
Event of the Year – A Night For Angus (Shooglenifty at Celtic Connections)
Trad Music in the Media – BBC Radio 2 Folk Awards
Venue of the Year – Tolbooth (Stirling)