Music promotion by Birnam
Supporting & promoting independent music from Scotland.
The Northern Lights project is a music promotion initiative for independent bands and artists.  Birnam produced a compilation album featuring 2 tracks from each of the artists – if you are a festival/event organiser, radio presenter…and would like a promotional copy of the CD 'Northern Lights' please contact us. All the artists can be contacted direct via the links detailed below.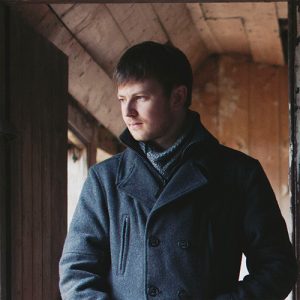 Graham Mackenzie
Graham is a traditional fiddler, composer and fiddle teacher from Inverness. He is acknowledged as an innovative and creative performer, drawing inspiration from the music of the Highlands, Ireland and Cape Breton. Graham has frequently appeared at Celtic Connections and at other major festivals throughout Scotland and abroad. He has been a finalist in BBC Radio Scotland's Young Traditional Musician of the Year and was nominated for the Composer of the Year award at the MG Alba Scots Trad Music Awards in December 2016. His debut album, 'Crossing Borders, a 'New Voices commission for Celtic Connections,was successfully launched at the Blas festival the same year.
"It's very difficult to classify Crossing Borders except to say that it's wonderful; buy it" FOLK RADIO UK
"An amazing new talent in fiddle playing and composition" DONALD SHAW
"…wonderfully nimble and emotive fiddling." PENGUIN EGGS
grahammackenzie@btopenworld.com I www.grahammackenziemusic.com l Facebook l Twitter
DONALD BLACK
Highly respected ace Scottish Celtic Harmonica player Donald Black is firmly established as "the instrument's foremost exponent in Scottish Traditional Music" (Scotland on Sunday". With his own unique style and mastery has has almost single-handedly given the harmonica a new respect and acceptance as a significant part of the Scottish Traditional Music scene. Drawing his repertoire mainly from pipe and Gaelic material of the Scottish Highlands and Islands, Donald also incorporates influences from mainstream Scotland, Ireland, the Shetland Isles, Cape Breton (Nova Scotia) and beyond – all combining incredible virtuosity and great feeling with quality entertainment and audience connection.
"Donald Black treated the audience to several exquisite slow airs and gorgeously syncopated reels. We left breathless!" SCOTLAND ON SUNDAY
"To put it mildly he is a virtuoso." FOLKING.COM
"…(the album) is varied, beautiful, exciting and a whole load of fun". FOLKING.COM
donald_black@email.com l www.donald-black.com l Facebook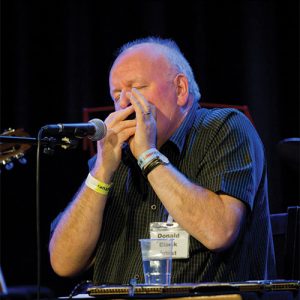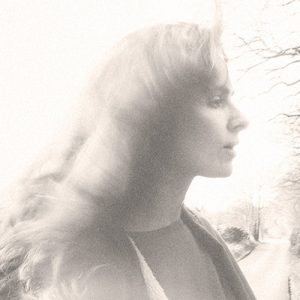 Sophie Ramsay
Sophie is a singer-song writer from Perthshire, Scotland who combines original and traditional songs. Her latest album, "The Seas Between Us", includes songs in Scots and Gaelic, and was produced by Matheu Watson. Her previous release, "The Glassy Mountain", an album of original songs, was produced by iconic Jim Sutherland and included some of the UK's finest folk and jazz musicians. Tracks from her first album of Scots songs, "Ca' the Yowes", featured on Radio 4's "Desert Island Discs" and in the film "A Lonely Place to Die". Sophie performs regularly, often accompanied by jazz French horn maestro Jim Rattigan. In 2017, she toured with cellist, singer and songwriter Sarah Smout.
"A beautiful and heartfelt album, Ramsay's ethereal voice laces through these songs with a delightful and sensitive tenderness." SONGLINES
"Atmospheric, elegant and beguiling, hers is an exciting new voice to carry Burns onwards." SONGLINES
"Undeniable beautiful listening." fROOTS
sophieramsay@gmail.com l www.sophieramsay.com l Facebook l Twitter
Jennifer & Hazel Wrigley
For over three decades this talented twosome have been household names in the global traditional music scene. The unique tuned tones of twin sisters Jennifer (fiddle) and Hazel (guitar and piano) is augmented with soft spoken stories and imbued with a see-saw mischievous Scottish dialect. Rooted in the ancient isles of Orkney off the far north of Britain their music has been described as a dancing dialect of "songs without words" and has been wooing and enchanting audiences from Bergen to Brisbane to critical acclaim. The Wrigley Sisters are unquestionable regarded as at the forefront of Orkney's incredible yet quietly confident rise to fame.
"The best folk music is born of tradition but enlivened and invigorated by new ideas. Jennifer and Hazel fit that bill perfectly." SOUTH CHINA MORNING POST
"People aren't just going to get a string of tunes, but an Orkney experience." THE GEORGIA STRAIGHT.
"…awesome performers." fROOTS
office@wrigleysisters.com l www.wrigleysisters.com l Facbook l Twitter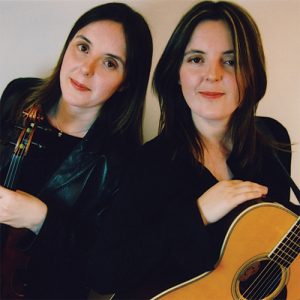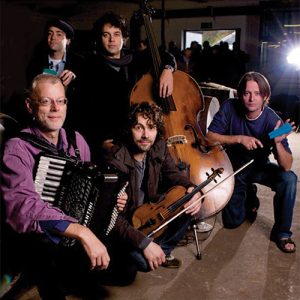 Moishe's Bagel
Thrillingly original cutting-edge klezmer and folk music from some of Scotland's finest musicians. An intoxicating, life-affirming mix of Eastern European dance music, Middle Eastern rhythms and virtuoso performances. Formed in Edinburgh in 2003, Moishe's Bagel combines the energy and passion of world folk music with the excitment and soul of improvisation. Boasting some of the best intstrumentalists that Scotland has to offer (Salsa Celtica, Camille O'Sullivan, BBC Scottish Symphony Orchestra, Eliza Carthy, Scotish National Jazz Orchestra), they are equally at home jamming in a late night jazz den, grooving at a forest festival, or enthralling an upmarket concert hall.
"Exhilarating, full-flavoured stuff, often breath-takingly intricate but played with jubiliation" GLASGOW HERALD
"This brilliantly accomplished and adventurous five-piece emphatically puts the 'class' into 'unclassifiable'." THE SCOTSMAN
"Moishe's Bagel demolish pigeon holes with indecent relish." THE SCOTSMAN
phil@moishesbagel.com l www.moishesbagel.com l Facebook l Twitter
Paul Anderson
As one of the most respected exponents of the Scots fiddle tradition, Paul Anderson is in high demand to perform at concerts, festivals and clubs. He also regularly appears on TV and radio. Paul has composed around 450 tunes in the traditional Scottish style, many of which appear in his Lochnagar Collection. He has written for TV, film and stage, and his music has been performed at the BBC Scottish Proms. Paul is an experienced fiddle tutor and a popular workshop leader and lecturer having led workshops at St Andrew's University, Aberdeen University, the traditional music course at Benbecula college, all five North Atlantic Fiddle Conventions and in Canada.
"This music lives and breathes and takes you, through its vibrant illustrations and artworks, into a world that Anderson clearly loves" FOLKWORDS.
"…music stirs the imagination and words flow invisibly…down through each instrument and every bar." LIVERPOOL SOUND AND VISION
"…a truly masterful exhibition of fiddle composition and playing." SCOTLAND ON SUNDAY
paulanderson@abdn.ac.uk l www.paulandersonscottishfiddler.com l Facebook l Twitter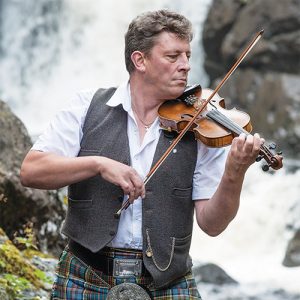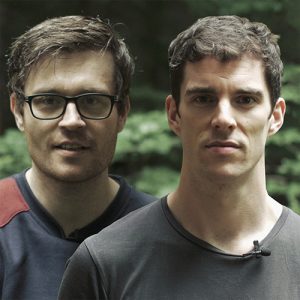 WHYTE
WHYTE comprises Gaelic singer-songwriter Alasdair C.Whyte and electronic composer and musician Ross Whyte. They perform new arrangements of rarely-heard traditional Gaelic songs, original instrumental pieces and original Gaelic songs. Their new Gaelic song, 'Cionran', received the 2017 'Hands Up For Trad/Creative Scotland Nos Ur Songwriting Award. Their stage show, "Fairich: Live", is a musical historical and visual tour of Scotland based around the duo's debut album. An immersive, cinematic experience, the show is a live performance of the album with projected visuals (by video artist Dan Shay) of key motifs, landscapes and seascapes relating to the Gaelic lyrics. "Fairich: Live" premiered at Edinburgh Festival Fringe in August 2017.
"…an album which is engaging, fascinating and entirely unique." BRIGHT YOUNG FOLK
"Engaging, fascinating and entirely unique." BRIGHT YOUNG FOLK
"…achingly beautiful arrangements!" fROOTS
info@whytenoise.co.uk l www.whytenoise.co.uk l Facebook l Twitter
Alastair Savage
Born in Ayrshire in 1973, Alastair Savage has performed traditional and classical music throughout his life. He won the Land O'Burns Scots Fiddle Competition in 1986, taking first prize in both the Ayrshire and National sections. He has been a member of the BBC Scottish Symphony Orchestra since 1997. As a traditional fiddle player he has released four solo albums, three predominantly of his own music followed by an album of melodies focusing on Niel Gow, Rabbie Burns and James Scott Skinner. Alastair has broadcast on BBC Radio and his music has been used in documentaries by BBC Alba.
"...a primer for anyone with a notional interest in Scottish traditional music." GLASGOW HERALD
"There is breathtaking effortlessness to Savage's musical art: technical and intricate without ever overshadowing the music itself." BRIGHT YOUNG FOLK
"…a most finely crafted piece of work worthy of a master of the art." FOLKWORDS
al.savage@yahoo.co.uk l www.alastairsavage.co.uk l Twitter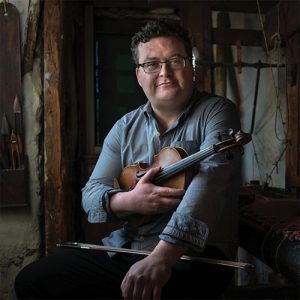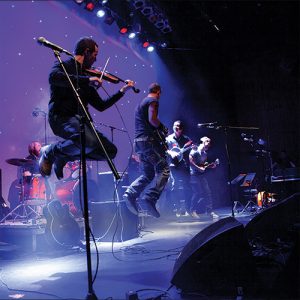 The Revellers
Hailing from The Shetland Islands, The Revellers are a seven-piece juggernaut that combine fiddle, mandolin and tenor banjo with heavy metal, punk and alternative rock rhythm sections. The end result is something which has been nicknamed by onlookers as "heavy folk music" or "Viking metal". Praised for their energetic live shows and stage antics, they have been described as one of the most entertaining bands in the north. While all members are based on the isles, they have played festivals and venues around the UK and Europe, and have performed with the likes of Big Country, The Levellers and The Chair.
"I hope it (Skeletons) gets heard by festival organisers…they are a dynamic live act…" FOLKING.COM
"An air of defiance combined with joie de vivre and an evergy surplus providing a stinging nip" FATEA
"…the energy of early punk at its best and most lyrical." FOLKING.COM
lewiepeterson@hotmail.com l www.the-revellers.com l Facebook l Twitter
Ryan Young
Ryan is a traditional fiddle player from Scotland bringing fresh and inventive ideas to traditional Scottish tunes which he brings to life with his spellbinding interpretations. Ryan's debut album, released August 2017, was produced and recorded by triple Grammy winning American producer Jesse Lewis. He has twice been nominated for BBC Radio 2's Young Folk Awards and was a finalist in BBC Radio Scotland's Young Traditional Musician of the Year in 2015 and 2016. Ryan was named "Up and Coming Artist of the Year" at the MG Alba Scots Trad Music Awards in December 2016.
"...leading the New Wave of traditional Scottish fiddlers, virtuoso Ryan Young." BBC WORLD on 3
"…they compliment Ryan's inventive and inspiring violin mastery so that the wonderful sound just takes flight, soars and swoops." FOLK WALES
"…the album highlights Young's intensely intimate and considered treatment of traditional Scots tunes." THE SCOTSMAN
ryanyoungfiddle@gmail.com l www.ryanyoung.scot l Facebook l Twitter